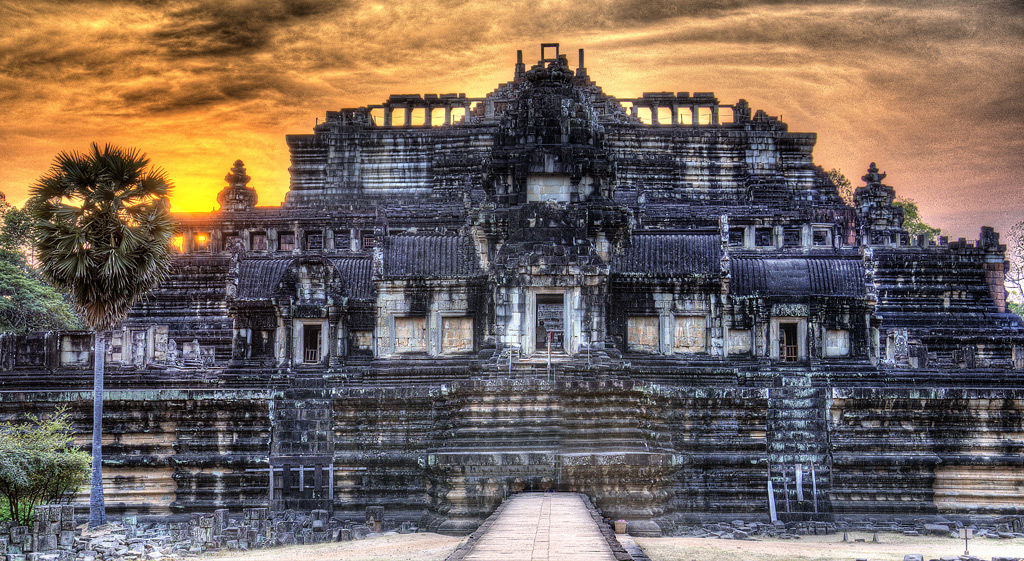 Angkor Wat, in its beauty and state of preservation, is unrivaled. Its mightiness and magnificence bespeak a pomp and a luxury surpassing that of a Pharaoh or a Shah Jahan, an impressiveness greater than that of the Pyramids, an artistic distinctiveness as fine as that of the Taj Mahal. Angkor Wat is located about six kilometers (four miles) north of Siem Reap, south of Angkor Thom. Entry and exit to Angkor Wat can only be access from its west gate.
Angkor Wat was built in the first half of the 12th century (113-5BC). Estimated construction time of the temple is 30 years by King Suryavarman II, dedicated to Vishnu (Hindu), replica of Angkor Thom style of art.
BACKGROUND
Angkor Wat, the largest monument of the Angkor group and the best preserved, is an architectural masterpiece. Its perfection in composition, balance, proportions, relief's and sculpture make it one of the finest monuments in the world.
Wat is the Khmer name for temple (the French spelling is "vat "), which was probably added to "Angkor "when it became a Theravada Buddhist monument, most likely in the sixteenth century. After 1432 when the capital moved to Phnom Penh, Angkor Wat was cared for by Buddhist monks.
It is generally accepted that Angkor Wat was a funerary temple for King Suryavarman II and oriented to the west to conform to the symbolism between the setting sun and death. The bas-reliefs, designed for viewing from left to right in the order of Hindu funereal ritual, support this function.
ARCHITECTURAL PLAN
The plan of Angkor Wat is difficult to grasp when walking through the monument because of the vastness. Its complexity and beauty both attract and distract one's attention. From a distance Angkor Wat appears to be a colossal mass of stone on one level with a long causeway leading to the center but close up it is a series of elevated towers, covered galleries, chambers, porches and courtyards on different levels linked by stairways.